Join the Bremerton Wine Society
7 September 2017 | Wine Society | Bremerton Wines
Join the Bremerton Wine Society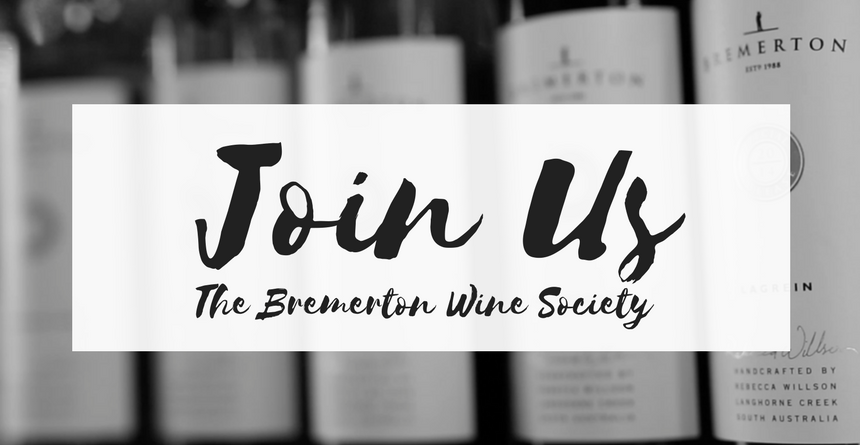 The Bremerton Wine Society is ready to welcome you to the club. The wine club, that is. Not sure if a wine club is for you? Read on to discover the ethos behind the Bremerton Wine Society, hint: it involves a lot of wine drinking.
What could be more enticing than a club where you get to meet up with like-minded individuals and eat, drink and be merry – all while sipping on a cracking South Australian winery's offerings? How about a club that sends you a ready-made selection of exclusive offers handpicked by your favourite Langhorne Creek sister duo? In the lead up to every March and September, we get extra excited. Why? It's time for us to make the bi-annual wine club pick.
It's one of our favourite jobs putting those mixed dozens together, as it's a fabulous opportunity for us to share our wines with you. You get to choose your flavour – red, white or a mixed selection. Our wine society members tell us they love getting our mixed selection. It's a bit like an adult lucky dip in that way! By joining in the Bremerton Wine Society, you receive a lot of benefits – early pre-release wines being one, and they all come to you at 20% off as a thank you for being a member of the club. That discount is applicable year round too.
On top of that, on the second Wednesday of every month we do Museum Wine Wednesday, so you get access to the cellar. We make sure dad is not around and we unlock the cellar and pull out some beauties for you to try.
Speaking of mum and dad, they also play host to some pretty fabulous long table lunches. We hold a relaxed and intimate long table lunch on a Friday, seven times a year. We limit spaces to around 16 people and there are usually five to six courses with gorgeous food and matched wines. You can expect a great selection of our wines including museum wines and pre-releases. These invites are unique to wine club members, but warning: they do book up fast!
Your membership runs for a minimum period of 12 months to ensure you receive the full benefit of being a wine society member. When you join you will receive a wine society pack containing your membership card, tasting notes and cellaring advice for the wines as well as a comprehensive list of benefits of being a member. There are a range of prices and selections for you to choose from, so you can tailor your packs.
We'd love to have you on board. If you were never the type to get involved in clubs at school or sporting clubs leave you cold, it's time to have a rethink – over a glass of Bremerton wine, naturally.
If you would like any further information regarding the Wine Society or have any queries, please do not hesitate to contact us by phone (08) 8537 3093 or email us at winesociety@bremerton.com.au. Our friendly operations manager Nikki will be on hand to answer any questions for you. Alternatively, you can sign up here.
Come to the cellar door for a chat in person if you can – it's less than 50-minute's drive from Adelaide and you can try before you buy. Happy days.


Comments
Commenting has been turned off.
Recent Posts
12 July 2018

14 May 2018

27 April 2018

13 April 2018

13 March 2018

13 February 2018

12 January 2018

8 December 2017

1 December 2017

17 November 2017
Blog Categories
Blog Archives
Our Writers