'Grapes for Good' 🍇
DOING A LITTLE GOOD WITH EVERY GLASS YOU POUR...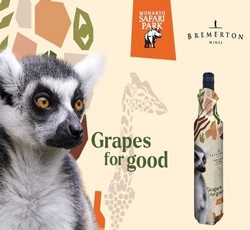 We are very proud to partner with Zoos SA and 5 other Langhorne Creek Cellar Doors as part of the 'Grapes for Good' iniative. Together with Bleasdale, Kimbolton Wines, Lake Breeze, The Winehouse and Vineyard Road, there is a unique mix of wines to support conservation efforts with part proceeds from the sale of our allocated wines supporting Zoos SA'S conservation mission.
'Grapes for Good' is proof that wine can be a force for good. Every drop can go a little further and make a real difference.
Purchase a bottle of our 'Mollie & Merle' Verdelho and support the gorgeous Ring-tailed Lemur. Cute as they may be, but Ring-tailed Lemurs are in deep trouble in the wild. Classified as endangered with habitat loss and poaching the biggest threats to the wild population, Bremerton Wines is proud to support Monarto Safari Park and Zoos SA to help Ring-tailed Lemurs stay a leap ahead of extinction!
---
'Grapes for good' tasting trail
►Visit 6 different wineries, all within a stone's throw from each other, try and taste award winning wines in one of South Australia's best kept secret wine regions
►Voucher to Monarto Safari Park, South Australia's #1 Tourist Attraction and the largest safari experience to exist outside of Africa (voucher valid for 3 months)
►Contribute to critical conservation programs, with more than 70% of the species at Monarto Safari Park threatened with extinction in the wild
►Support regional collaboration between local businesses
Choose from either Luxury Transport (with a driver) or Self Drive options.