Introducing Bremerton Wines Tempranillo Graciano
27 April 2018 | Cellar Door | Bremerton Wines
Introducing Bremerton Wines Tempranillo Graciano
Welcome to Bremerton Wines Virtual Cellar Door! We're Rebecca and Lucy Willson, the sister-duo behind our Langhorne Creek Winery. Although it's only a 50-minute drive from Adelaide, we understand that not everyone can make it out to visit us, so we've set up these virtual tasting sessions.
We'd love to introduce you to our Tempranillo Graciano – a bit of a mouthful to say, but a delicious one to swallow! This is part of our special release range. One that we produce solely around alternative varietals. It's available from the cellar door and a few carefully selected places nationally – we do recommend that your safest bet is the cellar door.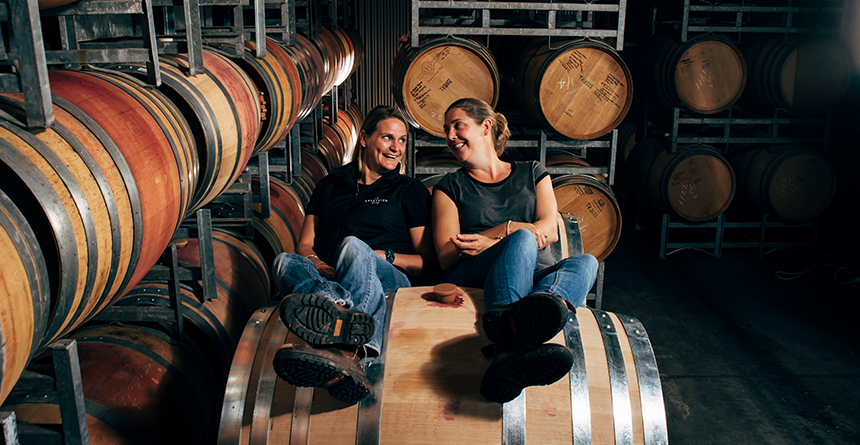 So we have discovered through planting a series of alternate varieties that tempranillo and graciano work really well with our microclimate. It helps that we have beautiful warm days for fruit ripening but at the same time really cool nights – it has proven to work really well with these two varieties. With experience and the more vintages we get under our belt, we're finding we are getting lots of we are getting lots of flavour development.
This is actually a blend, one is more feminine and the other is a little more rustic. It's really delicious. This has a lovely chewy palate, it's only medium in weight but has a beautiful floral crunchiness. It's a lovely wine to sit back and enjoy with tapas style food. It's a wine that is really loved in our cellar door – even by people who are not very familiar with the variety. It's so easy to drink and great with food. We're a bit in love with it.
We hope you've enjoyed your virtual cellar door experience. Remember that we're only a 50-minute drive from Adelaide, through some really gorgeous countryside. We'd love to see you in person and introduce you to our lovely Tempranillo Graciano.


Comments
Commenting has been turned off.
Recent Posts
12 July 2018

14 May 2018

27 April 2018

13 April 2018

13 March 2018

13 February 2018

12 January 2018

8 December 2017

1 December 2017

17 November 2017
Blog Categories
Blog Archives
Our Writers