Introducing Bremerton Wines Fiano
15 February 2017 | Cellar Door | Bremerton Wines
Introducing Bremerton Wines Fiano
Welcome to Bremerton Wines, we are situated down in Langhorne Creek and this is our virtual cellar door. We're excited to talk you through our range and in particular, our delicious little Italian influenced number.
We are going to introduce you to our Fiano, which is one of our special release range. A range of unique, alternative varietals that we have decided to let Rebecca play with in the winery so that she doesn't get bored! We have then released these into the cellar door and at a small number of carefully selected restaurants around Australia.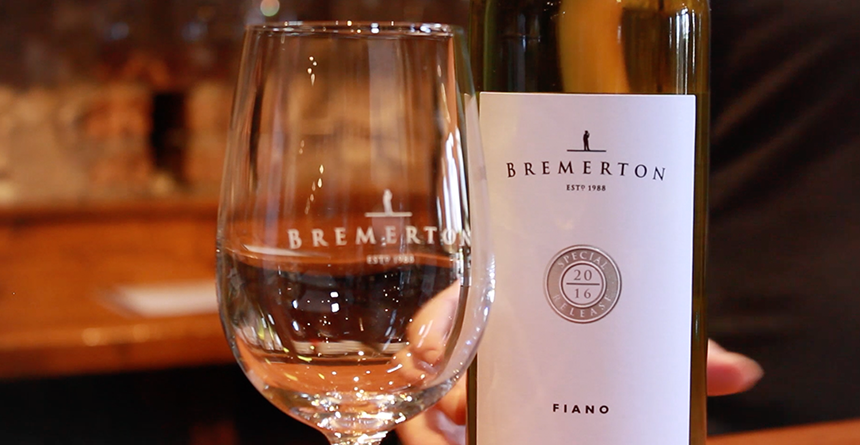 Fiano, sometimes known as "piano" in the cellar door, is a Southern Italian variety. We love it because it is quite different to our traditional varieties. With a strong citrus blend to the flavour profile, it's very textured and for us, it just really sings with food – in that typical Italian style.
A tradionally low-yielding vine, this is still a niche varietal for Australia. Originating in Sicily and the Campania regions of Italy, this style went out of favour because of its growing difficulties. However, modern winemaking methods have brought it back into the spotlight. Our 2016 vintage Fiano is an example of the modern variety. Aromatic, intensely flavoured with lemon curd notes that are balanced by a traditional nuttiness.
We love making it, as it is something a little bit different for the area and we love offering something unusual for people to try. You may not have experienced this variety in Australia before, so it is a real pleasure for us!
It is a variety that is certainly suited to the Langhorne Creek's climate. It is very delicious and we are learning that it ages well, so think about setting it down for a few years.
Thanks very much for visiting our virtual cellar door. Remember we are only 50 minutes away from Adelaide. If you'd like to experience this in person, pop in and see us at Langhorne Creek!
We hope to see you soon!


Comments
Commenting has been turned off.
Recent Posts
12 July 2018

14 May 2018

27 April 2018

13 April 2018

13 March 2018

13 February 2018

12 January 2018

8 December 2017

1 December 2017

17 November 2017
Blog Categories
Blog Archives
Our Writers