Introducing Bremerton Wines Selkirk Shiraz
24 March 2017 | Cellar Door | Bremerton Wines
Introducing Bremerton Wines Selkirk Shiraz
Welcome to the Bremerton Wines virtual cellar door. We are Rebecca and Lucy Willson, the owners and managers of this gorgeous winery.
We are delighted to share with you a bottle with a lot of history behind its name: our Selkirk Shiraz.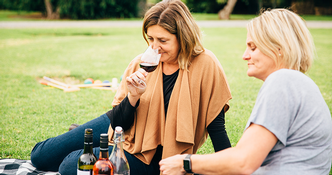 Named after a town on the border of Scotland where our grandfather was born, the Selkirk holds a great deal of meaning for both of us. It is also a part of our signature range.
Originally documented in south-eastern France, the Shiraz grape is also known as Syrah. These flavours of these dark-skinned grapes are heavily influenced by the climate they are grown in.
Here in South Australia we have many climates where Shiraz is grown, but our Langhorne Creek style is very approachable, introducing quite plush tannins to the palate while the beautiful, ripe fruit holds a wonderful brightness and vibrancy. Personally, we're big fans of the dark berry fruits, savoury spice and white pepper aromas.
You may be interested to know that Shiraz is the most widely planted red grape variety here in Langhorne Creek.
We enjoy drinking the Selkirk with a substantial, full-flavoured meal. Pair it with a hearty Coorong Angus Beef steak, Mediterranean dishes, or an eggplant based vegetarian option and voilà! You've got yourself the perfect lunch or dinner.
We're also discovering that this bottle can be cellared for some time, only to improve with age.
So that's that. Thanks for visiting our virtual cellar door. We are located only 50 minutes away from Adelaide, so if you'd like to experience Bremerton for yourself, pop on in and visit us.
Look forward to seeing you soon.


Comments
Commenting has been turned off.
Recent Posts
12 July 2018

14 May 2018

27 April 2018

13 April 2018

13 March 2018

13 February 2018

12 January 2018

8 December 2017

1 December 2017

17 November 2017
Blog Categories
Blog Archives
Our Writers