Introducing Bremerton Wines Bâtonnage Shiraz/Malbec
9 May 2017 | Cellar Door | Bremerton Wines
Introducing Bremerton Wines Bâtonnage Shiraz/Malbec
Hello, welcome to Bremerton Wines! We're situated on the beautiful Fleurieu Peninsula, in Langhorne Creek, South Australia and this is our virtual cellar door.
We will be tasting our Batonnage Shiraz/Malbec and we have to say, it's one of our favourites! Malbec is a bit of a specialty for us and Rebecca loves experimenting with the varietal. In this wine we have combined Shiraz and Malbec to achieve a really special, full-bodied and textured red.
South Australia is famous Shiraz country, but each area yields its own special tastes and terroir to the end product, and our Langhorne Creek region has its own distinct flavour profile. Malbec also has a very long history in Langhorne Creek, we like to think of it as the home of Australian Malbec. So putting the two together to make our Batonnage Shiraz/Malbec was a no-brainer.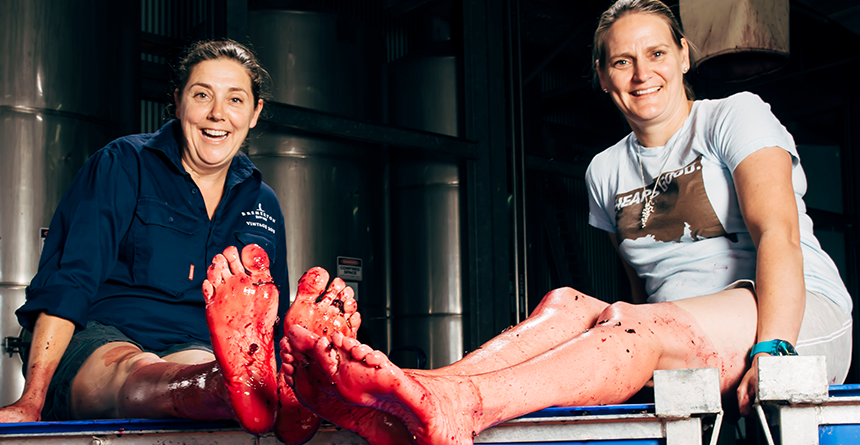 What is batonnage? It's a French term that denotes the process of stirring the 'lees' in the wine barrel. Lees are the deposits of residual yeast and particles that settle to the bottom of the barrel after fermentation and ageing. It adds a distinct and (to many) pleasant flavour and aroma to the finished product and Rebecca loves playing with the process to develop the end product.
It has resulted in a mid-palate feel that is quite creamy and milky with a purity of the varietal fruit. Think red fruit and white spice balanced by the structural complexity of fine French oak. This wine is well suited to food with its beautiful fruit expression and a tannin profile that is really silky.
While it's great to drink now, this develops a wonderful complexity with age. Serve this lovely number in the best glasses you have, as it releases more notes and depths of flavour in a taller, wider bowl.
That's it from us today, we hope you enjoyed. We think you'll probably enjoy it much better in person so why not make the pilgrimage out to see us? Remember we are only 50 minutes' drive from Adelaide.
We can't wait to see you soon!


Comments
Commenting has been turned off.
Recent Posts
12 July 2018

14 May 2018

27 April 2018

13 April 2018

13 March 2018

13 February 2018

12 January 2018

8 December 2017

1 December 2017

17 November 2017
Blog Categories
Blog Archives
Our Writers