Water Conservation
At Bremerton we are at the leading edge of water saving technology with the vineyards being converted from above ground to below ground irrigation, organic mulching to reduce evaporation and the plantation of mid row cover crops. Our winery has undertaken a comprehensive water audit and in the last year has halved its water output production through the implementation of a water use minimisation plan. This includes simple changes to practices such as using hand held spray guns, water saving barrel washing techniques as well as the introduction of a recirculation cooling unit in our lab which is saving us over 30,000L of water a year.
At our Matilda Plains Winery we are in the final stages of implementing a "zero-footprint" water initiative whereby the vineyard surrounding the winery will be watered by treated winery reuse water via a man made wetland that will also become a habitat for local wildlife. Matilda Plains Winery has also taken steps to "future proof" itself by installing large rainwater tanks that will see the winery with the capability of being completely self-sufficient and negate its reliance on the River Murray.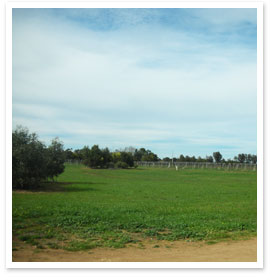 The site of the proposed 'water-treating' wetland.