Art Exhibitions
Artist – Chris crabtree
Exhibition running until 31st July 2021
Born in London in 1942 and emigrated to Melbourne in 1964. Graduated from RMIT as an architect and has practiced in both Victoria and South Australia.
His particular interest was in the restoration of old buildings and mills in South Australia. He has also restored a number of traditional wooden boats on the River Murray.
Chris's work involves the use of watercolour, oil painting and print-making which strives to capture both the sea and landscape's spirit and hidden evocation of the human response to our surroundings, both in nature and man's additions to it.
His exhibition "Australis: From Desert to Sea" includes the love of the sea in contrast to his works of the desert.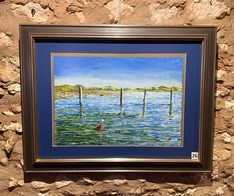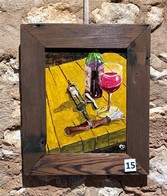 We hope you can visit our cellar door and enjoy this exhibition. Why not make a day of it and enjoy the warmth and lunch in our cellar door? We recommend booking to avoid disappointment, phone (08) 8537 3093 to book or email cellardoor@bremerton.com.au