Art Exhibitions
For the month of August, Bremerton is excited to be involved again in The South Australian Living Artists (SALA) Festival. SALA is a statewide festival of Visual Art and allows all artists at any level and working in any medium to be part of.
Bremerton hosts The World As I See It, by artist Aleksandra Kucanski-Durmanovic. Aleksandra's body of work features genre scenes where the human figure dominates and still life is told through a lens of nostalgia. She is particularly inspired by Paris, its people and streetscapes, as is apparent in her works of mixed media, oil on canvas, pencil and charcoal on paper and Tempera on paper.
We hope you can visit our cellar door and enjoy the exhibition. Why not make a day of it and enjoy the warmth and lunch in our cellar door? We recommend booking to avoid disappointment, phone (08) 8537 3093 to book.
If you are a local artist or photographer interested in displaying your work, please contact our cellar door (08) 8537 3093 or email cellardoor@bremerton.com.au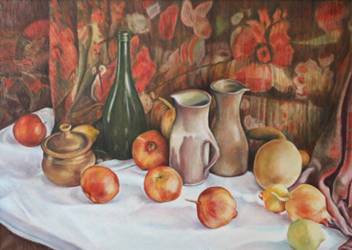 Artist Aleksandra Kucanski-Durmanovic, 'The world as I see It'.